Since we first opened our shop online in 2005 we've had the privilege of serving hundreds of thousands of customers. Below you'll find some of the unsolicited positive feedback we've received from our customers over the years.
Dear Words Anywhere,
I had an extra panel left over from my kitchen renovation. I hung on to it, thinking it would make a good sign with some lettering. When I made a spare room into a guest room, I decided to use it. The vinyl decals were so easy to apply, and look fantastic in my room!Thanks! I will recommend!
Pam Doran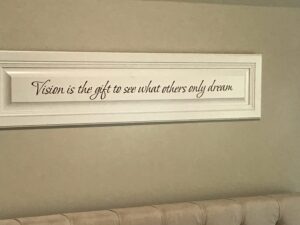 We love our signage!
-Dawn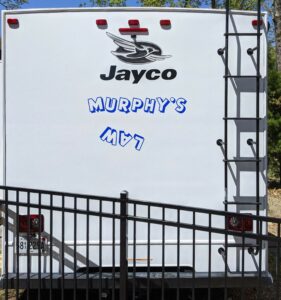 My new wall in my office at work.
I thought I'd never do anything like this again after years of living with a severely crippled hip. Nine and a half months after surgery I climbed the second highest mountain in Acadia National Park.
I wrote this quote in my blog and wanted to continue with the inspiration in my new office.
Your lettering is beautiful and if you follow the directions carefully there shouldn't be any issues. I didn't have one bubble or any boo-boos. (It is level on the wall but the photographer wasn't. 😬)
Thank you for making last minute changes for me too!
Sincerely,
Andrea Schardt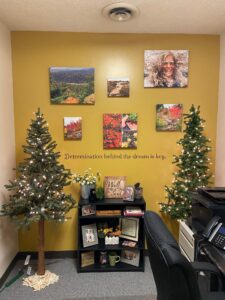 To whom it may concern:
Team, I just want to thank you. What you have done for my entry hall to my townhome is nothing short of amazing. $22 became this and I just want to Thank You immensely from the bottom of my heart!
You can count on return business and a 5 star review…but in the meantime, I am very grateful. Thank you for your help and wonderful product.
Sincerely,
Jim.Klockowski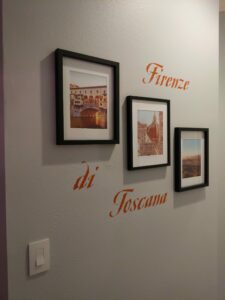 We loved the words we ordered through your website & everything turned out beautifully! Thank you for offering such a helpful product! Please see attached photo of final results! -Karrie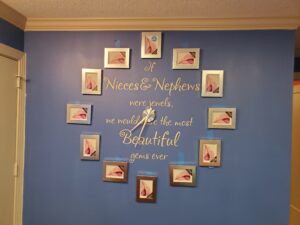 Ben was very helpful and knowledgeable on the phone with design tips. Order arrived within expected time frame with clear directions on how to apply the new vinyl letters and words on our designated walls. Everything worked without a hitch. Great experience. Satisfied customer. This project makes me look more creative than I really am – and I am OK with that. 😊 Thanks.
-Patrick
Hi Ben,
Just finished installing this morning. Took about an hour to set up, level and centered. That was the hardest part. Followed instructions on installing. That worked out very well. All-in-all very happy with finished project. Thanks so much for all your help and guidance. -Wilfred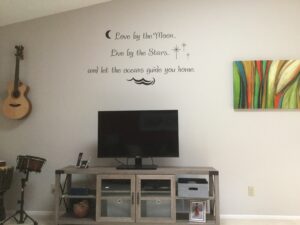 top
Ben, Thanks for all your help! It looks awesome and was much easier to put up than we thought! -Ann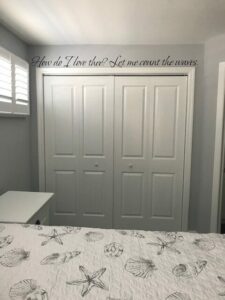 top
Hello Ben,
Hope this finds you well and safe.  I finally put the decals you made up for me on the Camaro. I waited for nicer weather and also with this virus I could not get the car registered for a while, DMV was closed. Anyway, thanks again for the good work. -Mike Mancuso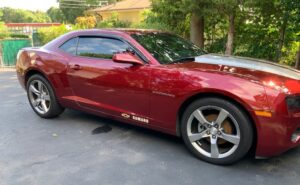 Hi Melissa,
You, and Ben are the best. Just paid the invoice.
Please share these two pics with Ben. They are the signs he made for me back in April.
Thanks,
Tony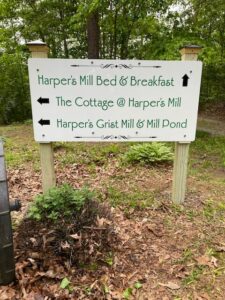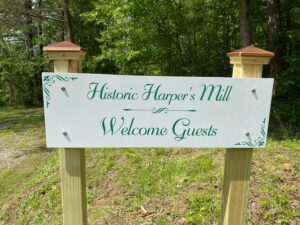 Just received our order and we were thrilled with the speed, the quality and the ease of installation. We were also overjoyed at the "freebie" that was included of the blue bird and the bare branch — it turned a meaningful verse for us into a true work of art. Thank you to your staff for observing and understanding the scope of the message we were attempting to convey, and for provided such a beautiful visual to accent the message. Amazingly, it matched with the color scheme of the room we placed it in. We are blown away!
Thank you again. We'll definitely be using your services again. -Joey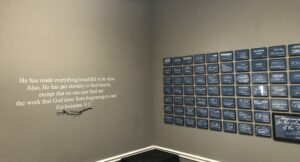 Ben, the arched words are perfect! Love it! Thank you. -Christin